Understanding net collection rates will help you to gain a better understanding of how much money that is owed to your practice is collected. Calculating your collection rate is quite simple, but it offers an excellent understanding of where your business stands and how you can improve it through medical billing operations.
Calculating your Net Collection Rate
The net collection rate holds a barometer to the health of your medical practice. It talks about the flow of income, thus giving you a clear picture of where your practice stands, monetarily. The adjusted collection rate is the percentage of the total reimbursement collected in your practice and how much is pending/ written off thus giving you a clear picture of where your practice is losing revenue.
This involves a pretty straightforward arithmetic formula. They payments (net of credits) is divided by charges (approved contractual adjustments) for the intended time period. This is then multiplied by 100 to get the net collection rate. The chosen time period should be at least six months in order to get accurate and favorable results, and to ensure that the claims have enough time to clear.
Measuring your Performance
It is highly recommended that you ensure the consistency of the collection period at all times. This will make it easy to calculate and keep track of your billing necessities and will enable you to track your performance over set periods effectively.
Your collection rate is heavily influenced by a number of factors, specifically your specialty and the payer mix. The amount of automation in your billing practice and collection cycle will also impact your performance.
It is necessary to measure your performance on a monthly/ quarterly/ semi-annually or annually. However, choosing the longer time frame will give you a better idea of the direction in which your billing practice is heading, thus allowing you to make amends in your practices for the better.
Best Practice Tips
When adjusting your collection rates, you can improve the efficiency by incorporating a few best practices that significantly reduces incompetency:
The Medical Group Management Association (MGMA) recommends a collection rate of at least 95%. Anything below 95% shows room for improvement, and most practices can easily reach these numbers by employing the right billing practices. The average range is between 95% and 99%, with the high performers constantly reaching the 99% numbers with ease.
Make sure to use a 12-month cycle to calculate the adjusted collection rate. This assures reliability and eases calculation overall.
Stay aware of the fee schedules and reimbursements schedules to keep track of what is being paid and to eliminate inappropriate write-offs.
Considering Inappropriate Write-Offs
This is one of the most common faults that people make when posting their payments. Inappropriate adjustments can actually be detrimental to their practice. It is important to distinguish between non-contractual adjustments and contractual adjustments when posting payments, as it can alter the view of how your practice collects money for services rendered.
Keeping track of the non-contractual adjustments will help you to understand the errors better, thus enabling you to improve your revenue cycle in the long run.
Why Us?
Understanding adjusted collection rate and complying with the necessities can be quite a burden, especially when you have to deal with your regular medical practice as well. At MedConverge, we help our clients with all aspects of their billing process, thus assuring effective and wholesome administrative services that suit your practice.
Download the whitepaper on 6 Steps to a Seamless Medical Billing Process.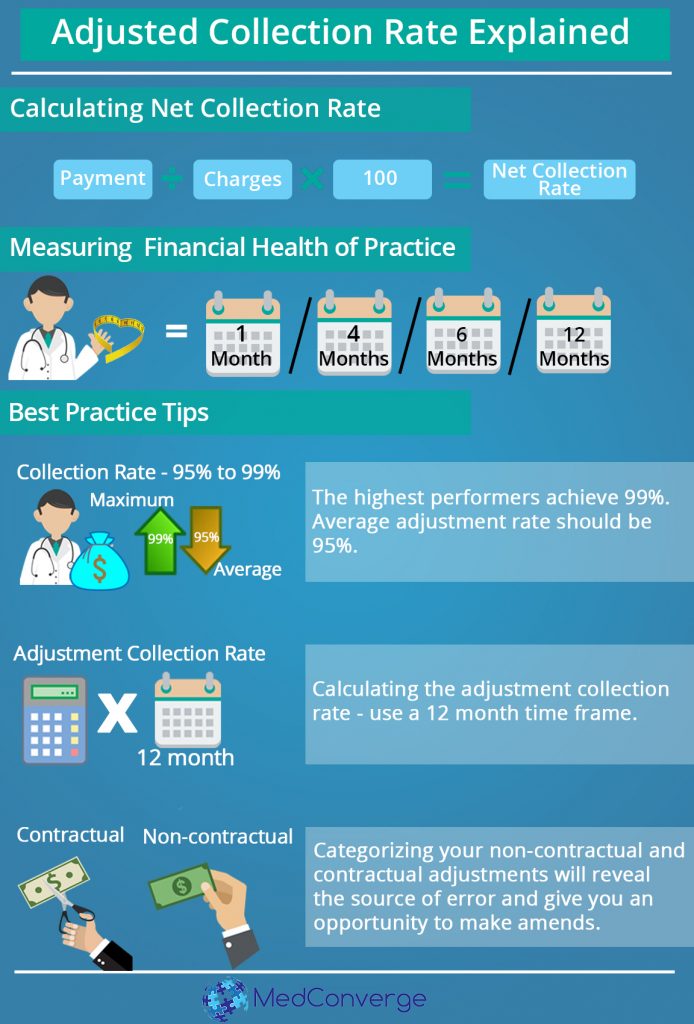 ---
Resources
N/A. (2017, May 21). Evaluating Your Practice's Revenue Cycle: Adjusted Collection Rate. Retrieved from AAFP: http://www.aafp.org/practice-management/administration/finances/collection-rate.html
N/A. (2017, May 21). MEDICAL BILLING METRICS: NET COLLECTION RATE. Retrieved from Medusind: http://www.medusind.com/medical-billing-metrics-net-collection-rate/
Worth, T. (2017, April 27). How Medical Practices Can Improve Collection Rates. Retrieved May 21, 2017, from Renal & Urology News: http://www.renalandurologynews.com/practice-management/doctors-office-how-to-improve-receivables-collections/article/653233/